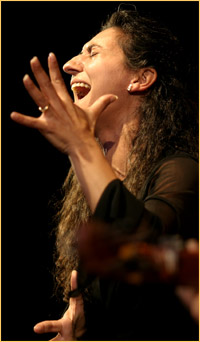 Carmen Fernández Castillo was born in 1968 in Utrera, Spain. Being a daughter of a gypsy family she grew up surrounded by flamenco. Her mother is a singer, her father a dancer and many of her brothers and sisters are also artists. Carmen Fernández has been dedicated to flamenco from early childhood on.
Starting as a dancer and later as a singer she has been searching for her personal expression beyond the old flamenco tradition. In 1998 she won the first prize in the competition »Concurso de Cante Jondo«. On that occasion she was introduced to Ulrich Gottwald, who then became her musical companion. With him she has recorded the CDs »Carmen Fernández Ulrich Gottwald« (2003) and »Naturá« (2005).
Performing as a solo singer and accompanying famous dancers, she travels throughout Europe and Japan.